We are the meeting point of those whose journeys never end.
Here, the mind, body, and soul will be inspired by desert surroundings and nourished by natural mineral hot springs. It is a sacred place of relaxation that offers healing, rejuvenation, and deep transformation in a serene, organic, and toxin-free environment.
The original hotel was built in 1949, one of the first spas in Desert Hot Springs. Now, redesigned as a human-centered, luxury resort, we boast true exclusivity situated in the Coachella Valley on top of Miracle Hill and nestled between the San Jacinto and San Bernardino mountain ranges.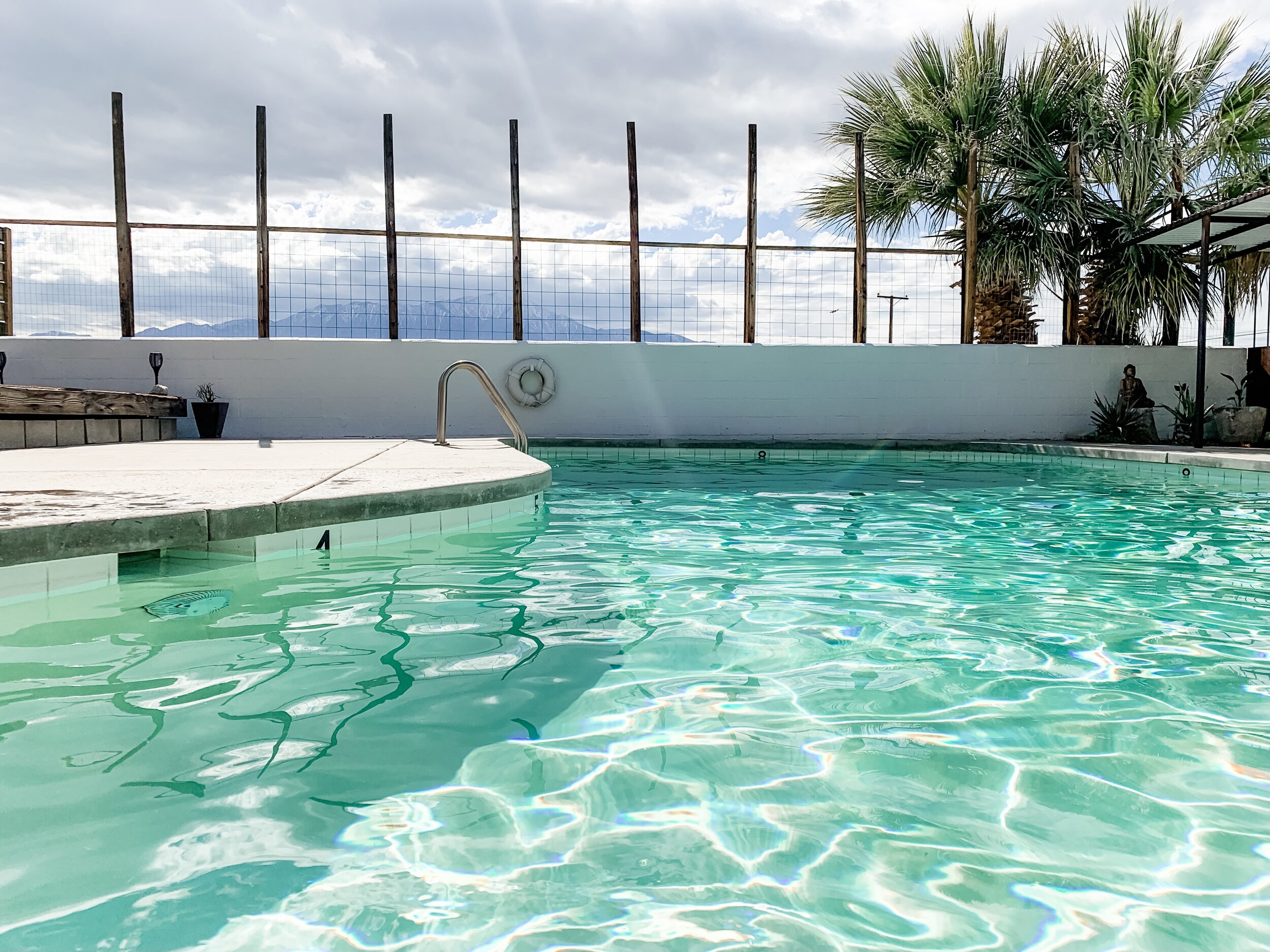 Our mineral water flows from a natural hot spring that recharges every 24 hours and returns to the ground. The unique composition of our mineral water is world famous for its therapeutic and mood enhancing properties — low in sulfur, and rich in lithium.
Angela Rutherford and Natia Courtney
They are both from Michigan, with Angela hailing from Flint and Natia from Detroit. Angela naturally gravitates towards hospitality and creating unique experiences that are inspired by history and nature. Her love of wine, geography, and community propelled her to create and launch The Royce, a wine bar located in downtown Detroit, which is where these two met. Natia's love of children and wanting to improve the lives of those living with disabilities, became a Behavioral Specialist working with children with autism. Angela had a dream of owning and operating a small hotel. She sold her wine bar, found Miracle Manor, and the two decided to leave their lives behind in Detroit and head west to embark on an adventure together in the desert. ⁠
Their vision for a re-designed Miracle Manor draws inspiration from nature, history, and Native American tradition. The central theme throughout the experience is environmental and personal wellness, two increasingly important passions in Angela's life. They invite you to participate in this journey of discovery and transformation here in this magical place. ⁠
Our Mission
Offer our guests an exceptional, authentic experience while providing sustainable, environmentally-responsible amenities that protect our planet.
Our Vision
Become the leading human-centered wellness hospitality business, inspiring a new generation of travelers by elevating the human consciousness, while improving the quality of the environment and our local community.
Our Values
New Luxury: We believe that the concept of luxury is being redefined and is becoming more and more focused on aspects such as space, nature, silence, time for oneself, discrete service but still with great attention to detail.
Global Wellbeing: For us well-being embraces the entire experience. Indoor and outdoor spaces inspired by nature, the use of all-natural materials, a healthy diet and above all our wellness philosophy are all expressions of our Global Wellbeing.
Sustainability: Sustainability means developing a profitable business model by creating something worthwhile, and that means we take our social and environmental responsibilities very seriously.
People: The real key to our success is the excellence of our staff, whose satisfaction is as strategic as the satisfaction of our guests.
Our Environment
We care about the wellness of our guests and our environment which is why we've taken great care in the design of our rooms and overall experience. Our beds are hand-made from reclaimed wood. Our linens and towels are all certified organic with absolutely no harmful toxins or chemicals. Our entire facility is maintained with nontoxic cleaning products. Exterior nighttime lighting is controlled by solar rheostats. All lighting is low wattage to conserve energy and prevent dark-sky light pollution. All plantings are watered with the overflow of mineral waters from the pools.
We recycle, reuse, and reduce.